Sour C
So thick and creamy, it's hard to tell the difference between INSTANTWHIP® SOUR C® PREMIUM DRESSING and regular sour cream. Except, of course, for the value and the shelf life. INSTANTWHIP® SOUR C® PREMIUM DRESSING delivers exceptional versatility. Thin it and you can use in your favorite sauce, soup or dressing recipes. When a recipe like Beef Stroganoff requires the taste of sour cream, SOUR C® delivers a wonderful taste and is heat stable too. Of course you should also consider using it in sweet applications – in frostings or candies – its tangy flavor and rich consistency are the perfect addition to treats. Ordering INSTANTWHIP® SOUR C® PREMIUM CULTURED DRESSING couldn't be easier – whether it's from your local Route Sales Team, online or with a phone call.
Top potatoes and vegetables with Sour C®.
Substitute Sour C® for sour cream in recipes.
Create new sauces, dips, dressings.
Use as an ingredient in candy or frostings.
May be thinned with buttermilk.
Use as a topper for spicy foods like chili, nachos, curries.
HANDLING INSTRUCTIONS
Shelf Life
Refrigerated at 35ºF: 75 Days, unopened. DO NOT FREEZE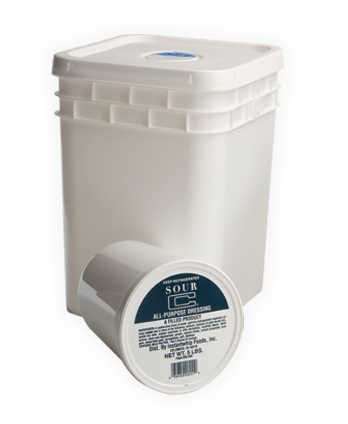 Product Info